Commercial Real Estate Financing Options for Investors
September 14, 2015

|

Comments Off

on Commercial Real Estate Financing Options for Investors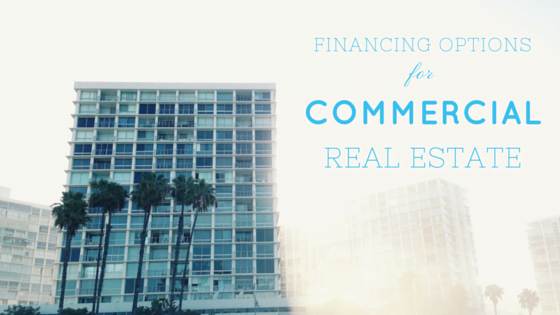 Investing in commercial real estate can yield great profits, provided you know how to interpret market cycles, and can determine the demand of a particular area. Whether you are investing in a restaurant, multi-family rentals, health care facilities, fitness centers, or anything else that can turn a healthy profit, commercial real estate transactions start with capital, and there are quite a few options available to investors.
Small Business Administration (SBA) Loans
Since the market crash of 2008, SBA loans have increased in popularity as part of the federal recovery plan. Almost 90% of all SBA loan applications for commercial real estate are approved, and because the money is guaranteed, the number of commercial real estate investors seeking funding through SBA loans is on the rise. The big drawback to SBA loans is that the SBA requires extremely detailed business plans showing how the money will be allocated, and there is a strict payment schedule that borrowers must adhere to in order to keep from defaulting on the loan.
Friends, Family, and Partners
When it comes to commercial real estate financing, one of the most difficult ways to get investment capital is to ask those closest to you. Not only is commercial real estate a field that requires sizable amounts of money, but the lenders want to know they will be repaid – sometimes, with a profit. When asking those closest to you for investment capital, work out a formal agreement, complete with payment periods, and have an attorney present. This helps to reassure the lenders that you are not just going to disappear into the night with their money, and offers a legal guarantee of repayment.
401(k) Accounts
Services now exist that will allow investors to transfer money out of 401(k) accounts into business accounts, which they can then use to purchase commercial real estate. It should be noted that these services have recently expanded to include IRA and other retirement accounts so that investors can draw on existing money to leverage real estate purchases.
Stimulus Capital
Many commercial real estate investors research stimulus incentives offered at state and federal levels, in order to get extra capital to put toward commercial real estate purchases. Commercial property offers space for businesses to move in and start their operations, and governments offer stimulus money because the tax revenue and potential job creation improves any given area. Likewise, there are government incentives for multi-family rental properties, because competitive housing is always a necessity.
Commercial Capital Loans
There are times when going through traditional lending methods and banks do not work for commercial real estate purchases. Typically, purchasing commercial real estate is a time-sensitive venture, and the window to purchase is much smaller than the loan application process through a bank. In these cases, many commercial real estate investors use commercial capital financiers to bring together private lenders in order to get the funding for a commercial real estate purchase. Money can be obtained more quickly than through a bank, and often the payment and interest terms are flexible and highly negotiable.
There are many commercial real estate financing options available, and with a little research, you can find the type of loan and funding that works best for the real estate purchase you want to make.