How Medical Practices Take Advantage Of a Merchant Cash Advance
June 25, 2015

|

Comments Off

on How Medical Practices Take Advantage Of a Merchant Cash Advance
Reinvesting in your medical practice can be an expensive process, but regularly updating your equipment and managing a regular resupply schedule is integral to establishing and growing your business. While the healthcare industry is experiencing regular growth and a nationwide demand for services has made the medical profession extremely secure, this does not always translate to easy access to business financing. Banks have been much more conservative about loans in recent years, making loans much harder to come by. Luckily, there are options like taking a merchant cash advance that can come in handy as an alternative to traditional loans.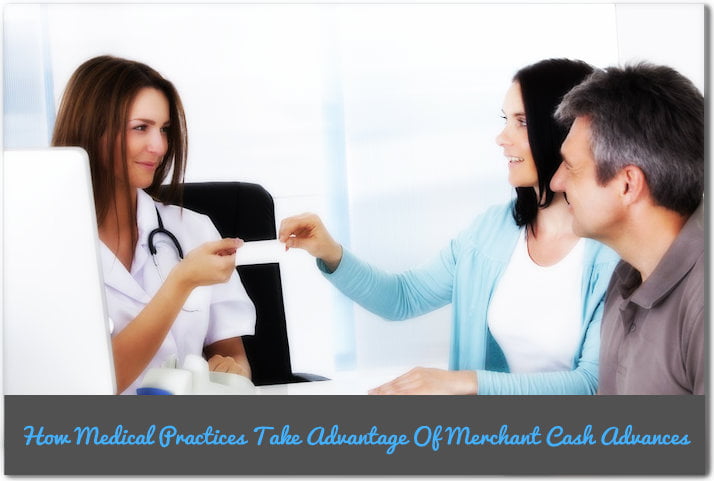 Loans Based on Future Sales
Cash advances are made based on the strength of your past sales, and they are repaid by committing a portion of your credit and debit transactions to the lender each month until the loan and its associated fees are paid. This means two things: your lender will make more money available as your sales projections improve, and you do not have to worry about fixed monthly payments that complicate your other commitments. These features make the advance ideal when purchasing equipment that will allow you to expand your services, because the strength of your overall demand will support the loan, while the new business brought in by the expansion can help you to pay down the merchant cash advance more quickly.
Operational Cash Flow from a Merchant Cash Advance
One area where medical practices can really gain an advantage through the judicious use of these cash advances is basic cash flow maintenance. The bulk of most practices' payments are from insurance companies, after all. While the copayment is collected up front, the bulk of each visit is usually paid for at a much later date and after a fairly lengthy processing time. This can complicate cash flow for many practices that are doing quite well by separating the service from the payment to such a degree that regular supply and maintenance of equipment costs are difficult to negotiate.
Using a merchant cash advance to gain a lump sum that can be paid down slowly through those copays can help. By providing you with a large amount of cash to use as needed, it allows you to stretch the budget until those large payoffs come in, which can really help during transitional times when your practice's traffic has picked up but your insurance processing has not quite gotten there yet.
Conclusions
While there are fees to pay with any cash advance, like there are with any loan, they do represent a low-risk, flexible method of financing for any business that is in need of a short-term cash injection. Medical practices can find extra, unique benefits in addition, and that makes it worth checking out merchant cash advance options any time your practice needs extra financing.
Apply for a Merchant Cash Advance today!