Why Financing Your Multi-Family Investments Is Smart
September 3, 2015

|

Comments Off

on Why Financing Your Multi-Family Investments Is Smart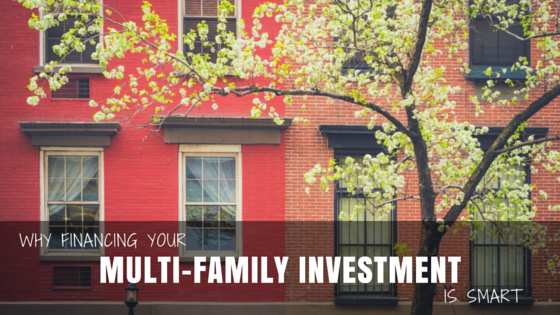 Multi-family investment properties are very profitable, but acquiring the real estate, renovating the structures, and renting the units to tenants can be very costly without the proper financing.
Limitless Financing Options 
From mezzanine loans to seller-carry financing, all the way to funding your multi-family investment through payments from future rental profits, there are financing options that fit almost any situation for any real estate investor. If there isnt one, a commercial financing professional can put you in touch with lenders to create a financing option tailored to suit your needs.
Finance Today To Fund The Future
 Many people finance multi-family investment – not only to decrease the out-of-pocket cost in property acquisition and renovation, but also to increase the profit margin as the units are rented out to tenants. Many real estate entrepreneurs use these profits – or the mortgage from the property itself, once the purchase is made – to use as collateral to leverage the next multi-family investment.
Living Where You Earn Your Money
 Some multi-family investors take up residence in their own rental properties for a number of reasons. The first is that they can see for themselves what repairs and renovations need to be made, and have immediate access to keep an eye on the progress of those projects. The second is that some multi-family investment loans are easier to obtain when the owner is living on the property. The third reason is that a lot of multi-family investors like to screen tenants themselves, rather than the added cost of partnering with a property management company.
Working With The Previous Owner
In situations like seller-carry financing or paying the down payment based on future profits, real estate investors maintain relationships with the previous owners of multi-family properties. This is a great opportunity to learn what needs to be fixed, the history of the property, how surrounding areas are zoned, and other pertinent information that will come in handy further on down the line.
Bottom Line Numbers
 Financing a multi-family investment is smart because, when all is said and done, real estate investors don't want to spend any more than they have to in acquiring new properties before starting to turn a profit. By researching the financing options available, the cost of multi-family investments can be offset completely, which reduces the payments that need to be made to the seller or lenders while the property is being renovated for people to lease. The lower the initial cost, the faster a multi-family investment can be made profitable.