October 5, 2015

|

Comments Off

on You're Not Alone: 3 Common Struggles Most Small Business Owners Face
You're Not Alone: 3 Common Struggles Most Small Business Owners Face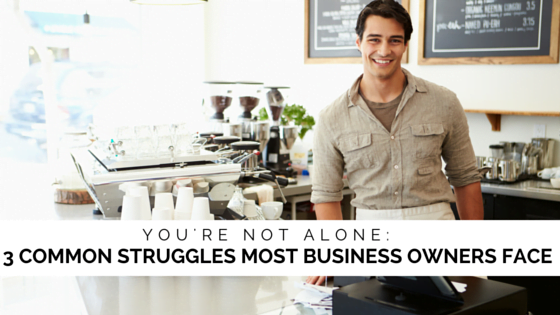 Taking that leap and starting your own business is a major step toward financial freedom. There is a thrill that comes with venturing into unknown territory, where the potential successes can outweigh any of the negatives you experience along the way. However, there are some common struggles that all small business owners face, and being able to recognize them will help you to cope with these hardships.
Figuring out roles within the organization 
In the beginning, many small business owners are wearing multiple hats. They are the accountants, the marketers, the salespeople, and every role in between. At the small business grows, many business owners focus so much on creating roles in order to delegate responsibilities, that they end up spending money on unnecessary or ill-fitting positions. If a small business doesn't rely much on computers, then there is really no need to hire someone to run IT support. Many small business owners feel they need a full-time accountant, but if accounting can be streamlined and automated (for the most part) through software, then having a salaried accountant on staff is unnecessary. Always evaluate your business to see who you need to hire and why.
Technology 
Some small business owners think that having the latest and greatest technology will not only make their operations run better, but they will be prepared for absolutely anything that comes their way. Always having an overabundance of the latest and best technology will do wonders for blowing a budget. A small business owner needs to weight what the company can afford, and what the company will need for the here and now, with a little room to expand over the next few years. There is no sense in spending money on equipment or software with functions and features that are never going to be used.
Whether it is due to a strained cash flow, or because of a lack of startup funds, all small business business owners need working capital. The truth is, most businesses go belly-up due to a lack of funds, yet most banks are unwilling to give loans to new businesses due to a lack of established financial and credit history. Luckily, commercial lending professionals and private investors have a number of alternative options to keep small businesses running and on track for success. From no money down loans, to low interest solutions, factoring and so much more – small business owners no longer have to resort to applying for bank loans in order to keep the lights on. What's more, alternative lenders will often offer free consultations in order to give entrepreneurs advice on what steps they need to take in order to get those coveted approval letters.