Access Top Investors Through Our Private Equity Financing Program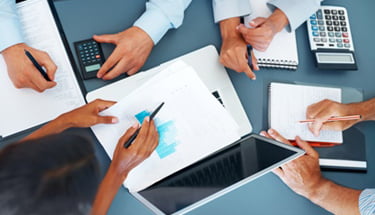 Bayard Business Capital and Consulting maintains professional partnerships with top investment firms in order to provide our clients with private equity financing. We can help you introduce equity or joint venture capital into your business by connecting you with an investor from our network.
Equity Solutions Through Our Network of Investors
Bayard Business Capital and Consulting has years of experience working with investment groups to provide our clients with capital. Our relationship with these firms gives your company access to equity. We leverage our alliance with joint venture capital firms to work with companies in start-up phases, early growth or periods of expansion.
Our partners will evaluate your business for investment potential based on several variables. Some of the key factors they examine are:
Your company's ability to create value
Your company's ability to generate cash
The strength of your management team
The presence of a clearly defined exit strategy for investors
Based on the analysis, we work with the investment group to find a finance plan that is right for our partner and provides capital for your business.
Reach Your Capital Goals
Our clients use the equity and joint venture capital program options for a variety of capital goals.
Your business can use the capital for:
Recapitalization
Corporate divestment
Leveraged or management buyouts
Restructuring or expansion
Learn More About Our Private Equity Program
We can connect you with an investment firm interested in a finance plan that works for your business. Contact a finance specialist at Bayard Business Capital and Consulting to get started today.